About Iron Software
For Engineers, By Engineers
Our founders, Jacob and Cameron, met studying Engineering at university in Manchester, UK, circa 1998, and have been developing products ever since.
Iron Software first launched with just one component, IronPDF. In only 6 years, the team has expanded into offices around the world, supporting 5 products and millions of users.
And we're not stopping there.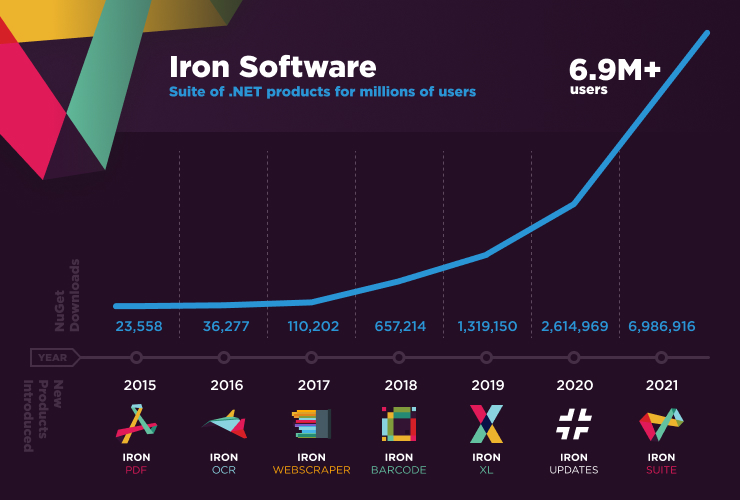 ---
Not Open Source. Here's Why
We're engineers. We're always looking for open-source solutions, too.
We used to think that paying for software was a bit like giving up. So we'd search for hours on Git to find open-source code, waste time struggling through the bugs and outdated platform supports, and fight headache after headache attempting to navigate through minimal documentation just to get started in a project.
We tried the C# open-source components out there and got frustrated.
So we made our own.
And instead of wasting hours of your time just trying to get started, we licensed our products so that you can pay one time and move on to the real work of developing your project. You're an engineer, and we respect that this is just one step in your build, and it needs to work flawlessly.
By licensing our products we offer:
Rigorous testing that won't break your system
Monthly product updates and constant improvement
Support directly from our engineering team
Feature requests, bug fixes, and direct customer engagement
Step-by-step tutorials, videos, and clear & simple English documentation
It's worth it to us to provide both best practice + affordable solutions. And we're pretty proud of our customers who think so too.
---
Trusted by Over 2 Million Engineers Worldwide
---
Hiring the Best
We're a growing team always looking for new talent. Iron is an international team of Engineers, Product Owners, and Marketing Strategists, working together to build products that move programming languages forwards. Let's build great things together. See the latest job opportunities here.
Contact Us
Iron Software is based in the U.S.A. in Chicago, but our support team is available 24/7. Call us at +1 (312) 500-3060 or send a message.